On April 22nd, 2020, Guangzhou Huangpu District Government issued the "Notice on Announcement of the List of the Fourth Batch of Certified Blockchain Enterprises or Institutions in 2019". Guangzhou Seeworld Co., Ltd. is voted as the fourth batch of approved blockchain enterprises. At the same time, there are 15 enterprises including Guangzhou Yueqian Intelligent Technology Co., Ltd. and Guangzhou Lanyue Network Technology Co., Ltd. all identified as blockchain enterprises.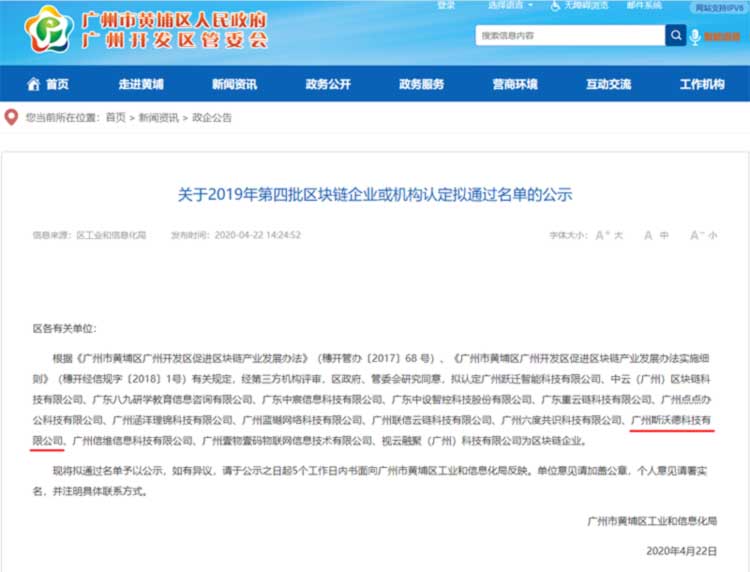 Blockchain technology is an architectural design method that can achieve data disclosure, transparency and traceability, and is characterized by being open, safe and unique.
At present, GPS technology is becoming more and more mature, and the Chinese Beidou satellite is expected to complete the layout in 2020, therefore the prospect of positioning location services is rapidly expanding. With the rise of digitalization and blockchain technology, it also brings great opportunities to location positioning services in various fields around the world. The industry said that blockchain technology can make the positioning terminal-platform-users clearer and smarter, and make location services highly transparent.
It is known that SEEWORLD Co., Ltd. has established a full-process safe location positioning data service to ensure the professionalization of each link and ensure the security of data. Under the support of blockchain technology, users can inquire the details of related items such as vehicles at each link, including the location, speed, and vehicle's status, and view past driving records. When there is a related abnormal situation, you can view related issues through the blockchain record and solve the problems in time. At the same time, using blockchain technology can make user data storage more secure!