S116mini – Small Size Easy Install
SEEWORLD S116mini vehicle GPS tracker is an upgraded version of the S116. It uses ultra-low power smart chip, ultra-small body.
It can perform intelligent power-off and flameout according to the speed of the vehicle, as well as over-speed alarm and real-time positioning of the electronic fence. Suitable for fleets, industrial vehicles, etc.
Product Description


GEO fence alarm:Set fence alarms with SMS commands to provide a safety net for your vehicle or other assets.


Remote oil cut:The system sends a power-off command, and the relay disconnects the power of the ignition device to achieve vehicle stall.


ACC detection:The vehicle is connected to the ACC line and users can view the vehicle status on the system. ACC on, on behalf of vehicle ignition, ACC off, on behalf of the vehicle stall.


Overspeed alarm:When the speed of the vehicle exceeds the overspeed speed value set by the platform, the overspeed alarm is triggered, and the device will send an alarm signal to the GPS monitoring platform.


Power Off alarm:If the GPS Tracker encounters a forced damage, such as cutting a cable, the locator will push an alarm message for the power failure alarm to the system.


Vibration alarm:After the device enters the armed mode,the device detects the vehicle vibration,triggers the vibration alarm and sends an alarm signal to the GPS monitoring platform.
Additional Information
| | |
| --- | --- |
| Weight | 0.027 kg |
| Dimensions | 7.4 × 2.6 × 1.2 cm |
| GSM | 850/900/1800/1900Mhz |
| GPRS | Class 12,TCP/IP |
| Working times | 2 hours |
| Chip specification | MTK2503D |
| Positioning accuracy | <10 meters |
| Support input voltage range | 6-30V(<30mA) |
| TTFF(Open Sky) | Avg.hot start ≤2s ; Avg.cold start ≤32s |
| Working temperature | -20℃ ~ +70℃ |
| Data storage quantity | 400 |
| voltage | 9~36vDC |
| GPS precision | 10m(2D RM) |
| OEM option | add the logo |
| use for | motorcycle ca ,truck taxi |
Installing the device:
1. Connect according wires to your car by referring to Wiring Diagram.
2.Install the device in following three suggested place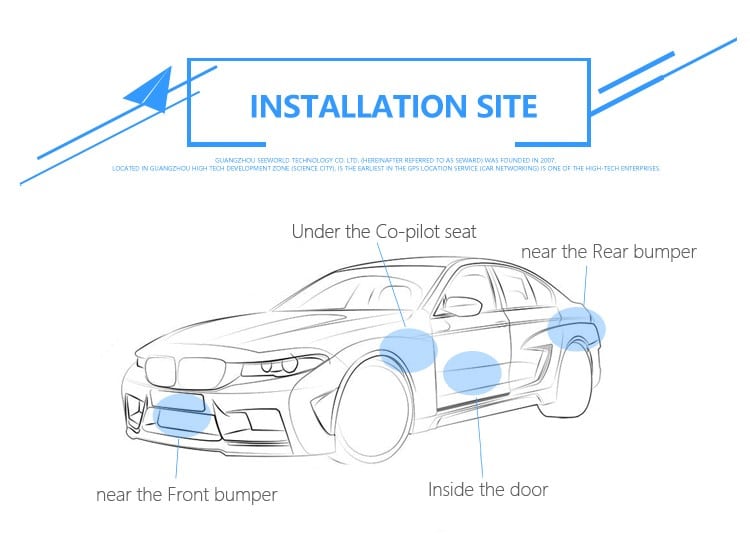 Important:
A. Make it covert for security factors.
B.Keep away from high power electrical devices, such as reversing radar,anti-theft device or other vehicle communication equipment which may affect the device signal.
C .Keep the device front face up & No metallic cases above the devicewhich may affect signal as well. Such as the windshield which is pasted with metalthermal-protective coating or heating coating.