Businesses in the transportation industry, such as trucking and car services, frequently utilize GPS fleet tracking devices to monitor companies' assets, such as cars, equipment, and drivers.
Companies may follow their product and equipment in near-real-time with a GPS fleet tracker, giving vital data about fleets and driver performance.
Understanding what a telematics system allows you to see how it may help your company save money, manage vehicle maintenance, track your mobile workforce, and ensure driver safety and compliance.
Knowing which solution is suitable for your company is also important. We compared the best fleet tracking devices for vehicles to see which ones are ideal for different sorts of businesses.
This article is for small business owners and fleet managers who want to manage their fleet with a GPS fleet tracking device. We are going to look at our list of the best GPS fleet tracking devices below, and you can read our guide to make a wise decision.
Benefits of Using a GPS Tracker for Small Fleet Vehicles
Before we get into our handpicked selection of the best GPS trackers for you, let's look at some of the advantages they'll provide to your company.
You can know where your drivers are at all times.
You can't expect to reach your drivers through smartphones when they're on the road. It creates a significant communication chasm between a fleet manager and remote employees. However, with a GPS tracker, you can bridge this gap and know where they are at all times.
You may perform work quickly and efficiently with the aid of a GPS tracker. By assigning the work to the right individual, you can deliver goods on time.
You may get a thorough report on your driver's driving behavior using a contemporary telematics system. So you can be aware of their driving habits and take precautions to avoid any negative situations.
You can keep track of your asset no matter where it is using fleet GPS trackers. Furthermore, in the event of theft, you may quickly locate them using real-time location updates.
A good GPS tracking system is more than just a GPS device. It gathers crucial data for you and gives you the ability to use it to make critical decisions. SEEWORLD provides you with a real-time tracking system that allows you to track drivers driving behavior.
A GPS monitoring solution can also assist you in staying on top of the maintenance schedules for various cars in your fleet. It will give you alerts to let you know when the vehicle should be delivered to the servicing center.
Top 5 Best Fleet Tracking Solutions for Small Fleet Business Owners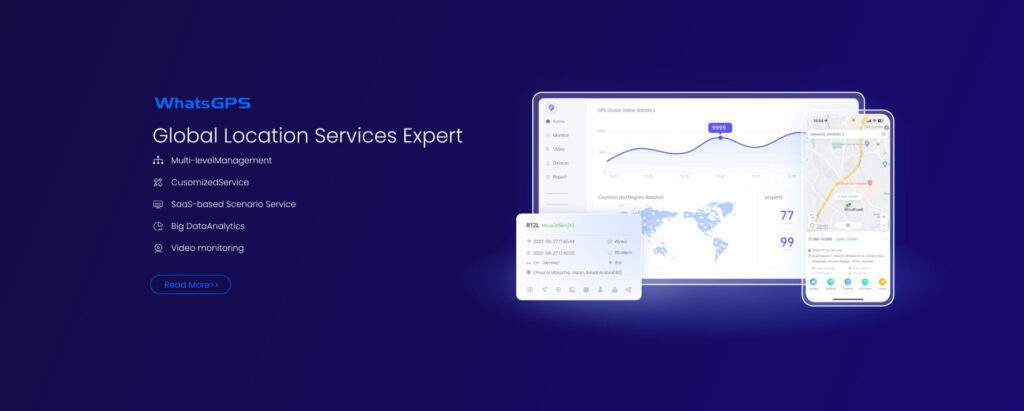 SEEWORLD's telematics solutions are unrivaled when it comes to GPS technology and related goods and services. One of the best things about SEEWORLD GPS devices for fleet companies is that they not only offer a wide range of services at an exceptionally low cost, but they are also customizable based on your demands and fleet size.
SEEWORLD offers a comprehensive suite of fleet management products, including GPS-enabled vehicle tracking, asset tracking, electronic logging devices (ELDs), and more, all of which improve visibility and efficiency.
The GPS devices and its integrated platform gather and analyze position data, engine condition, mileage, vehicle diagnostics, fuel use, and more in real-time to provide you with real-time information on how all of your resources – cars, equipment, and drivers – are doing.
The data enables you to make educated decisions on how to enhance your fleet's safety, efficiency, and sustainability while lowering costs and perhaps increasing ROI.
SEEWORLD GPS devices for fleet tracking are affordable, and you will get a better discount if you buy in bulk, contact our sales team for more information.
Choose from plug-and-play and hardwired tracking devices, as well as wireless and car-charging trackers – all at an affordable price. Rather than being locked into a certain hardware bundle, this lets fleet organizations pick a combination of gear that meets their demands and budget.
Verizon Connect
Verizon Connect, which has 23 offices across the world, provides worldwide services for fleets that operate beyond national borders. Everything from real-time location, theft/danger warnings, inventory, and dispatch management, to ELD and IFTA compliance is covered by the company's end-to-end fleet solutions.
The massive quantity of data and reports provided by Verizon devices and platforms are often best suited for large fleets, providing them with better information to manage their operations.
For fleets that operate internationally, Verizon Connect GPS devices and services are ideal. Apart from basic position tracking, add-on services such as live maps, fuel use statistics, idle time, engine health, driver's logs, and more assist users in cost analysis and improving low-productive areas of their operations in order to achieve optimum efficiency.
Complete customization of the dashboard on any mobile device to fit the demands of the fleet, Geofencing, and roadside help are some of the additional capabilities of its GPS-enabled FMS services.
Fleet managers have access to driving behaviors through their GPS devices, which aids in delivering essential training to their personnel to maintain the safety of their drivers, cars, and assets. As an add-on service, Verizon Connect also offers many AI-powered functions such as maintenance scheduling and route optimization.
Teletrac Navman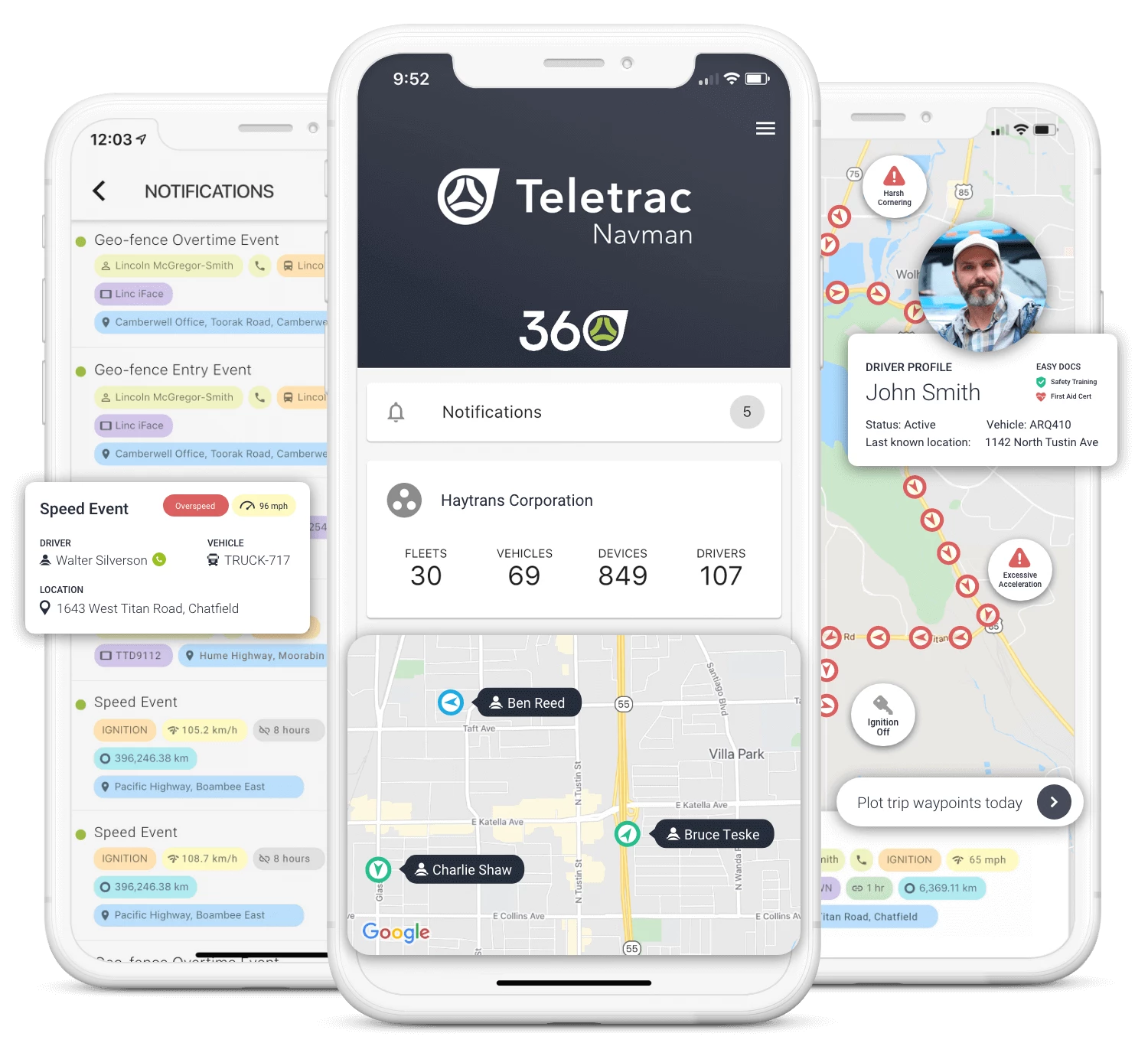 The Teletrac Navman GPS fleet tracking solution's USP is accurate data and useful reporting. Teletrac Navman provides a wide range of Cloud-based GPS services to clients in the United States, Mexico, Canada, the United Kingdom, Australia, and New Zealand.
Fleet managers and drivers may effectively manage their time and resources, as well as save money, using their devices and services.
Teletrac Navman provides precise data on location, driving hours, engine state, and more, which assists fleet managers in making decisions about driver assignments, fuel economy, route optimization, and providing real-time information to customers, among other things.
Their AI-powered system aids proactive workflow management and boosts productivity. Fleets can constantly keep an eye on vehicle upkeep and avoid needless repairs and replacements thanks to real-time diagnostic warnings.
Dash-cams are also included with Teletrac Navman GPS systems, which assist in establishing culpability in the event of an emergency and coaching drivers in better and safer driving behaviors. Users may build virtual borders around a site and track movement to track arrival and departure timings, as well as unlawful movement, using Geofencing.
Azuga Fleet GPS
Azuga Fleet GPS tracking is for you if you want real-time information on everything. Azuga GPS devices are simple to use, inexpensive, adaptable, and easy to set up.
It improves fleet visibility and helps you to establish correct responsibility and driver safety. Azuga's GPS devices are compatible with their FleetMobile FMS system, which can be accessed from any mobile device. You may obtain frequent information on your location, driving patterns, driver working hours, and more through this platform.
Small and medium-sized enterprises that value the security and safety of their drivers, vehicles, and assets would benefit the most from Azuga GPS-enabled fleet devices and services.
The company provides a variety of telematics solutions, including dual-facing dash cameras that capture every detail inside and outside the car. The recording aids in the promotion of safe driving practices as well as the identification of responsibility in the event of an accident or theft.
Azuga also offers a special fuel card that automatically records gasoline costs and assists with IFTA filing by providing fuel consumption statistics from the device.
ClearPathGPS
ClearPathGPS is a low-cost GPS fleet tracking system with a lot of capabilities. Unlike many of its rivals, ClearPathGPS publishes its GPS tracking prices openly, and it offers a variety of affordable options ($15 to $25 per asset, per month), making it a viable choice for fleet managers on a budget.
Geofencing, live map, and traffic overlay, limitless automatic reports, maintenance, odometer readouts, temperature monitoring, driver behavior tracking (e.g., idling and speeding), virtual timecards, driver IDs, driver scorecards, and real-time warnings are all available with ClearPathGPS.
One of the most striking features of ClearPathGPS is how simple it is to use. As a result, your drivers will be up and running in no time with the system.
If you do want assistance, ClearPathGPS provides excellent customer service through phone and help tickets. It also offers support with onboarding as well as continuous training and coaching.
How to Choose the Best GPS Systems for Fleet Management Companies and Businesses?
Despite the fact that many GPS fleet monitoring systems appear to be the same, they typically have subtle (sometimes substantial) variances that can make a big impact on your fleet. Because every fleet is different, you'll want to weigh your options carefully before deciding on the best telematics system for your company.
Find Out What Cars and Assets You Will Use
The first step in selecting a GPS fleet monitoring system is to determine the cars and assets you need to track, as well as how many of each category you have. This can help you narrow down your choice because different sorts of tracking gear are required depending on what you're tracking. Some firms, for example, have a small variety of tracking accessories, while others ask you to track a certain number of cars.
List Your Requirements
Once you've determined what you need to track, you'll need to figure out why you're tracking them. Because GPS fleet monitoring systems differ in terms of how extensive their features are, you'll need to figure out which capabilities are essential and which are optional.
Management
A great fleet management solution should be able to help you handle all aspects of driver management, including payroll, hours of service compliance, and driving behavior.
You may create warnings for hazardous driving behaviors such as forceful braking, speeding, using prohibited routes, and more, which can assist you in teaching your drivers good driving practices and therefore increase their safety.
Many systems also include dashcams, which are particularly useful in the event of thefts or accidents, and the recordings from the dashcams admissible evidence in court).
Budget
GPS fleet tracking devices might be expensive upfront. You'll have to pay a one-time price for all of the hardware and then a monthly fee for the software. However, some tracking solutions provide tiers of service with varying levels of functionality, allowing you to save money if your monitoring requirements are small.
You may then set a reasonable budget and hunt for telematics solutions within that budget after you've identified the characteristics you want. Contract duration, car minimums, and free trials are all factors that should be considered except for hardware and software expenses.
Consult the Fleet Tracking Companies
If you're deciding between a few different fleet tracking alternatives, contact company representatives to learn more about their services and how they may help you. Inquire about contract requirements, free trials, and scalability, as well as any other lingering questions you may have.
Working with a representative will also provide you with an understanding of what it's like to work for the organization and get customer service.
GPS Hardware/Tracker Features
Geofencing and Real-Time Location Monitoring
The benefits of knowing where your car is at all times are numerous. You can re-route to get to your destination faster if it's stalled in traffic. You can keep the consumer informed about the expected time of arrival (ETA). While loading or unloading, you can effectively decrease the time spent waiting or idle.
Operations
You can stay in touch with your driver and vehicle at all times thanks to GPS devices and FMS. This eliminates the need for back-and-forth communication with your driver. You can stay on top of everything going on in your fleet with real-time alerts and notifications, and you can simplify processes for more efficient operation.
Maintenance
You can arrange a maintenance check because most GPS fleet trackers keep an eye on vehicle diagnostics and engine state. According to studies, fleet cars that are well-maintained and serviced on a regular basis last longer.
Maintaining a correct schedule also decreases the likelihood of a vehicle failure while on the job. Furthermore, a properly working car consumes less gasoline.