Undoubtedly, GPS tracker cost is one of the most concerned questions for clients. Do you find yourself still wandering around the car tracking companies, looking for the best car tracker with an ideal car GPS tracker price? You're not alone! My clients encounter that situation before coming to SEEWOLRD! Considering that GPS tracker prices vary for each tracker, it can be intimidating to make the best option. In this write-up, we will cover the factors of an excellent GPS device that impact a GPS tracker cost, and the car tracker's price range, to help you make a wise choice.
Under $25: There are lots of GPS trackers for under $25, especially when it comes to a special sale. Generally, a GPS tracker in this price range consists of basic functions such as real-time tracking and playback of routes.
$25 to $60: This price range is aimed at a high-quality GPS locator with higher network stability and better tracking range.
(Note that the price range shows a general overview of GPS tracker prices in the market, and is only for reference. )
GPS tracker device price varies from the different tracker. SEEWORLD accepts custom GPS trackers according to the GPS tracker features you need.
Factors that Influence the GPS Tracker Cost
The valuation of GPS locators cannot be generalized. GPS device price plays an important role in product sales. People will wonder if these GPS tracker features are useful. And is it worth the price? How do you know if you've chosen the right GPS tracking service?
Here are some key factors that can affect the price of a GPS tracking device.
1. Generally, the GPS service provider will sign the agreement period with the user. The length of the agreement will affect the amount paid. The longer the contract period, the better the price. It will generally include hardware and monthly usage costs. 
2. The richer the additional features, the more expensive the GPS device and service.  SEEWORLD can develop the GPS tracker with the following product features.                  Product Features: power failure alarm, low power alarm, vibration alarm, ACC detection, SOS alarm, over-speed alarm, fuel and electricity cutoff function, temperature sensing monitoring, fuel level detection, recording, monitoring, real-time positioning mode, intelligent sleep mode, timing return transmission mode, track playback, geo-fence alarm.
3. Prices vary with the type of GPS tracker. Those who have purchased GPS trackers know that there are generally three types of tracking devices: OBD GPS devices, hard-wired GPS devices, and wireless GPS devices. 
OBD GPS devices are sought after by users for their ease of use. It simply plugs into the vehicle's OBD port for tracking. Hardwired GPS devices are directly wired into your vehicle for long-term tracking. An advanced GPS tracker for your truck is an example of a wired tracking system. Wireless car GPS tracker, as its name suggests, is a tracker installed without wiring and comes with its own power supply. It can be magnetically placed and hidden in any position of the vehicle, which is the best option for users who are unfamiliar with the circuit and don't want to take much time for installation. 
4. The cost of a GPS locator is also related to the number of trackers. The more quantity, the better the price.
5. Different GPS tracker companies will have different GPS tracking subscription fees.  Companies like SEEWORLD offer useful GPS tracker features with very favorable subscription fees. SEEWORLD is an IoT Software & Hardware Integrated Solution Provider that has its own car trackers and GPS tracking system- Whatsgps (Click here for more infomation). Generally speaking, if you buy a certain amount of hardware GPS devices, we accordingly provide you with one-year GPS tracking software for free.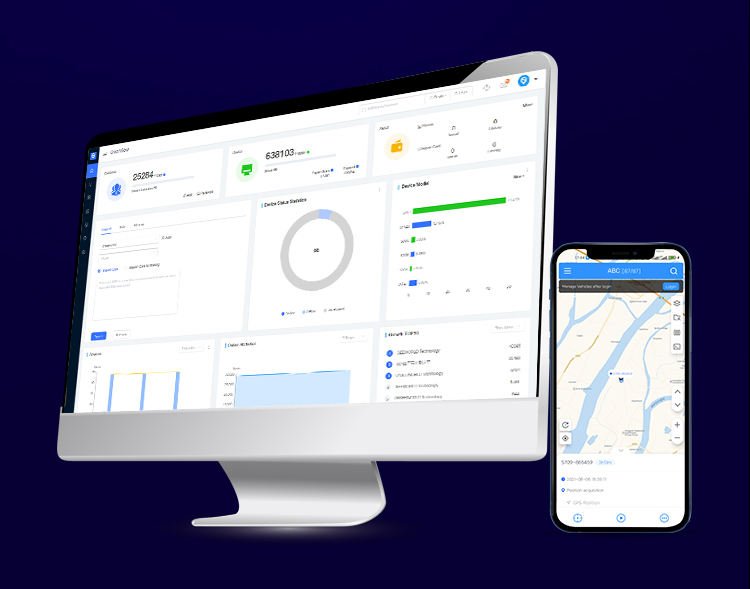 6. Some GPS tracking services look cheap but include some hidden service fees, such as hidden activation/deactivation, warranty fees, contract fees. We need to be wary of this.
7. Coverage: Coverage is another factor that depends on the cost of the GPS car tracker. According to the coverage, it can be divided into international GPS trackers and GPS trackers for some states or countries. Of course, the wider the coverage, the higher the price. SEEWORLD can offer you the custom GPS tracker according to your states or countries. And the coverage in that region will be debugged when the GPS device is manufactured.
All in all, the price of a GPS tracking device will vary depending on the type of GPS device, GPS tracker features, coverage, and more. We have to choose a GPS tracker with an appropriate price range according to the purpose of using this GPS tracking service. Usually, stable and reliable GPS tracking service providers can provide users with services such as warranty, customer support, and emergency services. SEEWORLD is a reliable service provider with good customer reviews, where you are sure to find the right custom GPS tracking solution for you. 
Regarding the GPS tracker cost, welcome to contact us! We started SEEWORLD because the need to create the best GPS tracker runs in our veins.  If you have any questions, we are here to tell you in all aspects.